HOUSTON AIRPORT (IAH) INFORMATION
Origin
Airline
Flight no.
Scheduled
Est./Actual
Status
No flight arrivals were found at Houston Airport.
Destination
Airline
Flight no.
Scheduled
Est./Actual
Status
No flight departures were found at Houston Airport.
Car Hire at Houston Airport
UNBEATABLE VALUE CAR RENTAL
Free Amendments | Free Cancellations | No Card Fees




Houston Airport - All Information on Houston Airport (IAH) Houston Airport
2800 North Terminal Road, Houston, Texas 77032
phone +1-281-230-3100
phone+1-833-253-2940 (Lost + Found)
emailhas.website@houstontx.gov
emailiahlostandfound@tsa.dhs.gov (Lost+Found)
call_end+1-281-230-3108 (fax)
Facts and History about Houston Airport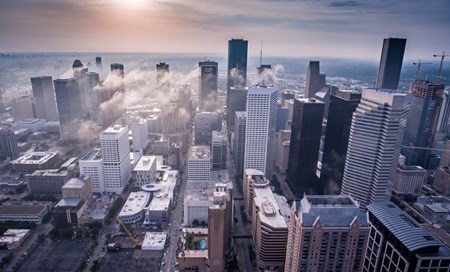 Houston George Bush Intercontinental Airport is serving passengers in the greater Houston metropolitan area. It is generally referred to as the Houston Airport. The airport was originally named Houston Intercontinental Airport, however, lather the airport was renamed after the 41st president of the United States; George H. W. Bush. Houston George Bush Intercontinental Airport is located approximately 23 miles/37 km north of Downtown Houston. The official address of Houston Airport is 2800 N Terminal Rd, Houston, TX 77032, United States. You can call the airport for any customer information at telephone number: +1 281-230-3100.
Houston George Bush Intercontinental Airport carries the international airport code of IAH (IATA), KIAH (ICAO) and IAH (FAA LID). It sits in an elevated location about 97 feet/30 meters above sea level at 29°59′04″N and 095°20′29 ″W.
In 2018, the Houston Airport was the 47th busiest airport in the world as it served 43,807,539 passengers. This high passenger number also made the airport the 14th busiest airport in the United States.
Houston Airport covers more than 10,000 acres/40.5 km2 of land, and here you will find up to five runways. Houston Intercontinental Airport includes 3 main entrances into the airport's terminal areas. The main north-south corridor to the airport is via John F. Kennedy Boulevard. Furthermore, passengers can use Will Clayton Parkway, which is another main road for IAH that runs east to west. Finally, running from west to east, you will find the Hardy Tollway Connector that connects JFK Boulevard to the Hardy Toll Road.
IAH serves five terminals and nothing less than 130 gates. The five terminals are Terminals; A, B, C, D, and E. The distance from Terminal A to Terminal D is 1.5 mile / 2.4 km. However, all terminals at Houston Intercontinental Airport are connected through both the Skyway and the Subway (see more information below).
Arrivals, Departures and Airlines at Houston Airport
Terminal A
Terminal A assists all non-United domestic and Canadian operations. However, this terminal also serves selected United Express domestic operations and international departures. Terminal A has gates from A1 to A30, which are placed in two groups. One group is from A1-A15 and the other group includes A17-A30.
Terminal B
Terminal B serves international departures and most United Express domestic operations. United Express is the only tenant of Terminal B as of 2017 at Houston Intercontinental Airport. Terminal B handles gates from B1 to B88 divided into different junctions.
Terminal C
Terminal C is also known as Lewis W. Cutrer Terminal. This terminal serves as United Airlines' main base of domestic operations. Furthermore, the terminal also assists some United Express domestic operations and international departures. In terminal C you will find gates numbered from C1 to C45 divided between South and North junctions.
Terminal D
Terminal D, which is also known as Mickey Leland Terminal, use to serve all non-United international operations and handle some United Express international arrivals. However, at the moment Terminal D does not serve any international arrivals as the terminal is on a development program. The renovations are expected to last until 2021. All international arrivals are therefore served in Terminal E. Terminal D has 12 gates, with plans to expand during the renovation process.
Terminal E
Terminal E is the United Airlines' main base of international operations at Houston Airport. Furthermore, this terminal also serves some United Express international arrivals and some larger mainline domestic operations. Terminal E is the latest Terminal at IAH and has gates from E1 to E24.
United Airlines is by far the Houston Intercontinental Airport's biggest tenant as it serves 78 % of all passengers at the airport. In fact, IAH is the second largest passenger hub for United Airlines. In addition, you can find carriers such as Spirit Airlines, American Airlines, Delta Airlines, and Air Canada. IAH is one of only a handful of airports in the world that serves nonstop flights to all six inhabited continents.
Houston George Bush Intercontinental Airport Ground Transportation
Inter-terminal Transportation
Within the airport, there are two different options for passengers to use to get between the terminals and the remaining airport services. The first option is the Skyway, which is an elevated train that connects all terminals. This is a way for passengers with connecting flights, to move between the terminals without having to go through security again. The other option is the underground train, which is called the Subway. The Subway connects all terminals and the hotel for everyone who would like to use the service.
Transfer to and from Houston Airport
When you have to get to or from Houston Airport, you have a wide selection of transportation opportunities:
Buses: You can take the METRO, which stands for the Houston Metropolitan Transit Authority. The METRO operates several services to and from downtown Houston and the vicinity with various stops. If you would like to get straight to downtown Houston the most comfortable route will be to take METRO Bus #102.
Taxis: You can take a taxi to and from IAH to downtown Houston, which will take approximately 40 minutes.
Airport Shuttles: There will be several shuttle bus companies at your disposal to get you to and from IAH.
Car Rental Companies: You can book your car rental through one of the many car rental companies that operate at the airport.
Hotels near Houston Airport
There are a number of hotels to suit all budgets and requirements at or near Houston Airport.
Parking at Houston Airport
See options for parking services at Houston Airport.
Additional Services and Amenities at Houston Airport
At Houston Airport you will find the usual array of bars and restaurants, airport lounges and shops.
Practical Information at Houston George Bush Intercontinental Airport
WiFi connection:
You can get a free WiFi connection at Houston Airport in each terminal, including the parking garages. You simply set the wireless network to; Free Airport WiFi. Then agree to the terms and select "submit" You are now connected to the WiFi.
If you need any help, you can contact support at telephone number: +1 844-310-9990.
Smoking:
At Houston airport, there are no smoking facilities inside the terminal. Smoking is only permitted in designated areas outside the terminals, at least 25 feet away from entrances.
If you are on a connecting flight, you will have to enter the United States and smoke outside one of the terminals. Afterward, you have to go through Security again for your connection flight.
Duty-Free shops:
Houston Airports are offering passengers a wide selection of some of the world's most desirable brands, with the benefit of duty-free pricing.
Please note that domestic travelers are allowed to enter the duty-free shops and can purchase from a broad selection of goods, yet except for tobacco and alcohol products.
Lost and Found:
If you need to report any lost items or check the status of a lost item you can contact the Lost & Found department at Houston Airport at telephone number +1 713-845-6673. If you need to report any lost items from an airplane, please contact that specific airline.
Things to do in Houston
There are a number of activities to suit all ages and interests in the region - see a selection of tourist activities in Houston, Texas in the United States of America.
Houston George Bush Intercontinental Airport's website
In need of more information about Houston Airport? You can always visit Houston George Bush Intercontinental Airport's website here: https://www.fly2houston.com/
Furthermore, if you have any questions or would like to get in contact with a member of the staff, you can contact the airport at telephone number: +1 281-230-3100 or by email at info@fly2houston.com
Local Information
Local voltage and plug type:
In the United States, the main electricity supply is at 120 volts (60 Hz). Types A and B with ⅔ pin are the most frequently used electric plugs in the country.
What side of the road for driving?
In the United States, you have to drive on the right side of the road.
Services at Houston Airport
Useful Information about Houston Airport